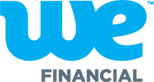 We Financial™ Visa Prepaid Card Customer Privacy Statement
Respecting your personal information is an important part of our commitment to you. Our Customer Privacy Statement summarizes when and how we use your personal information, as detailed in our Privacy Policy.
When you buy or order a product from us or use or apply for one of our services, you give us permission to collect, use, keep and disclose personal information that we have already collected from you as well as any additional personal information that you may provide to us, but only for the following reasons:

To carry out our business activities, like answering your questions, processing your order, arranging for payment, confirming your identity, maintaining tax records, etc.
To send you catalogues, flyers and offers by varying types of media about our products or services.

To comply with legal or regulatory requirements.

We will not give your personal information to any other business, other than our affiliated companies, except under the following conditions:

If we sell, lease, reorganize or dispose of any of our businesses, we will ask the new owner/operator to agree to treat your personal information in the same way that we do.
We might compile data and provide it to another business. For example, a manufacturer might ask for the number of warranty claims filed against a certain product. If we do this, we will make sure that you cannot be individually identified.
Other businesses may ask us if our customers would like to know about their products or services. If we think that you might be interested and you give us permission, we would give your contact information to that business, but only so that they could offer you their products or services.
We may not perform all the services we make available to you. If another business is performing a service for us or for you, we may provide them with that portion of your personal information that they need to know to perform that service. Some of these businesses may be located outside of Canada. As a result, your personal information may be accessible to regulatory authorities in accordance with the law of these jurisdictions.

If you ask us to, we will remove some or all of your personal information from our records, unless there is a reason why we have to keep it. If we have to keep it, we will remove it as soon as we can. You may withdraw your consent to collect, use, keep, or disclose your personal information unless you are legally or contractually restricted from doing so. If you do withdraw your consent, however, we may not be able to provide you with certain services or products.
In order to request copies of your personal information we have on file or to withdraw your consent and request removal of your personal information from our records, you must make such a request in writing to the Privacy Officer.
For more information about our Privacy Policy, please visit our website at www.wefinancial.ca, call 1-800-563-0002, or e-mail us at PrivacyOffice@northwest.ca.
SCOTIABANK GROUP PRIVACY BROCHURE
http://www.scotiabank.com/ca/en/files/12/01/Privacy_and_You.pdf
SCOTIABANK GROUP PRIVACY POLICY
http://www.scotiabank.com/ca/common/pdf/about_scotia/privacy_policy.pdf